Open Water Swimming for Real Adventurers!

We are excited to introduce you to our open water Coastal Adventure Swims. We've partnered with a local charter boat company to provide you with the ultimate in open water swimming experiences.

Meeting at Neyland Marina, we will embark on a sea swimming trip to remember, which is not only about the swimming experience but a complete sea life adventure, you never know what you will come across on, or in, the water.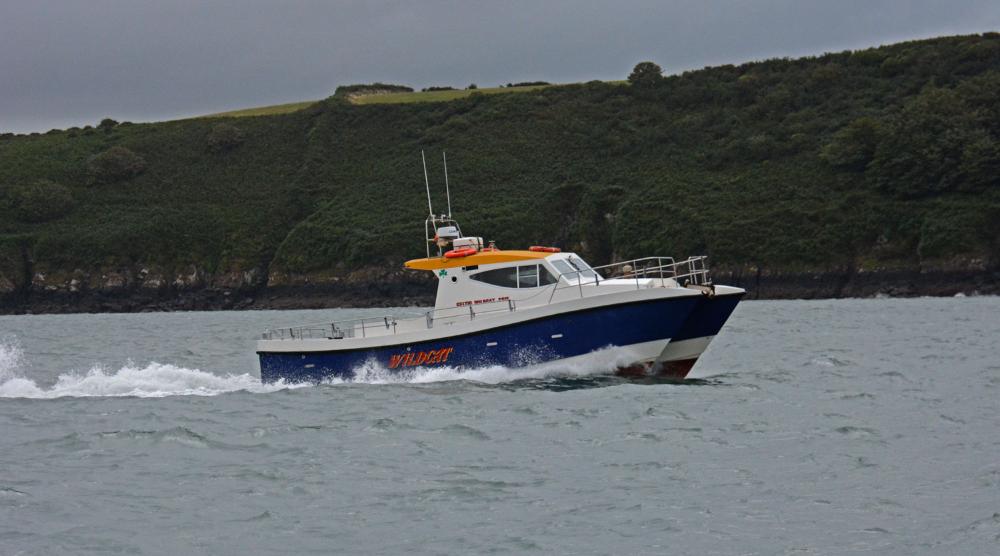 Fantastic Value for Money

Way more than just a couple of swims, our sea swimming safaris are a full day adventure, an awesome learning experience, and a must do for any serious sea swimming enthusiast. And at just £75 for a full day, sea life adventure, it's fantastic value for money. Read our Testimonials.

Special Discount for 2018

As 2018 is the 'Year of the Sea', we are offing a year long discount of £10.

Just enter the promotion code 'YEAROFTHESEA' when you make your booking.

The 'Celtic Wildcat' is a 10.5 meter (36') long Catamaran with twin 300hp engines. There is ample room on the deck for up to 12 people.

The boat is designed with a walk around wheelhouse which along with the on deck seating allows plenty of room to chill out and take in the spectacular views that the Pembrokeshire coast has to offer. There is seating in the cabin as well.

There are also facilities for making hot tea and coffee as well as refreshments and snacks offered as part of our swim packages.

Your adventure will start from Neyland Marina, which has free parking a café and restaurant on site. The marina also has showers which will be available to you at the end of the day. There is a shower and toilet on the boat as well as an interior area for warmth and shelter if needed.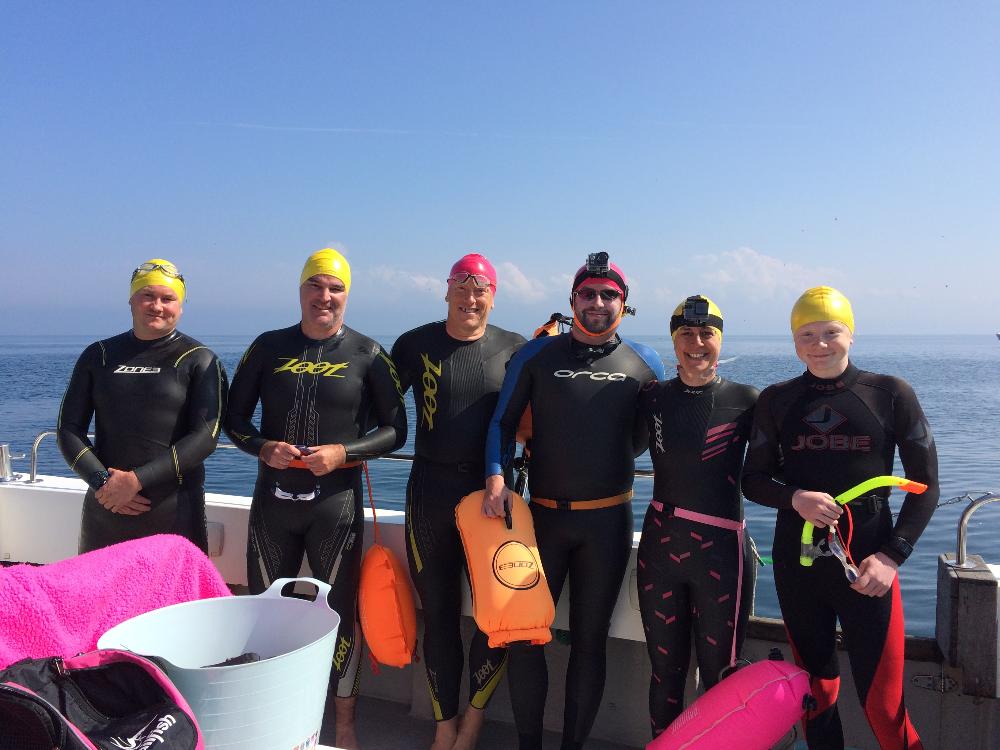 Open water sea swimmers on the sea swim safari Pembrokeshire
All of our swims have been explored and assessed for risk and hazards, which are documented and known by the swim guides. When everyone's ready we will get kitted up, split into your groups and review the swim plan with your swim guides. We will then enter the water and start the swim according to the swim plan. Once in we are sure you will be amazed by the clear visibility and beautiful underwater and coastal scenery.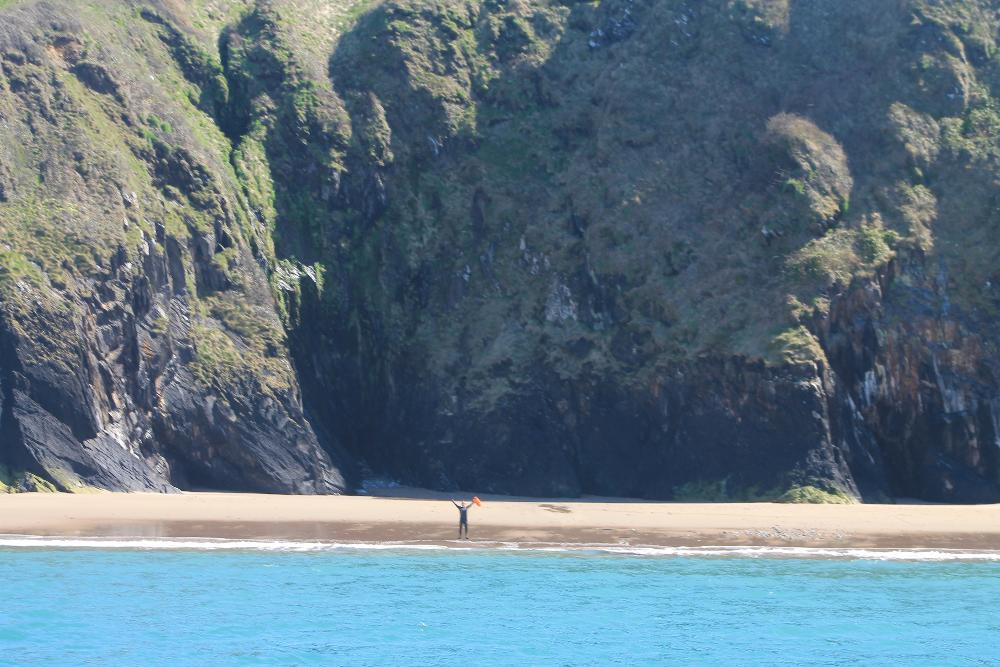 Our Coastal Adventure Swims offer fantastic scenery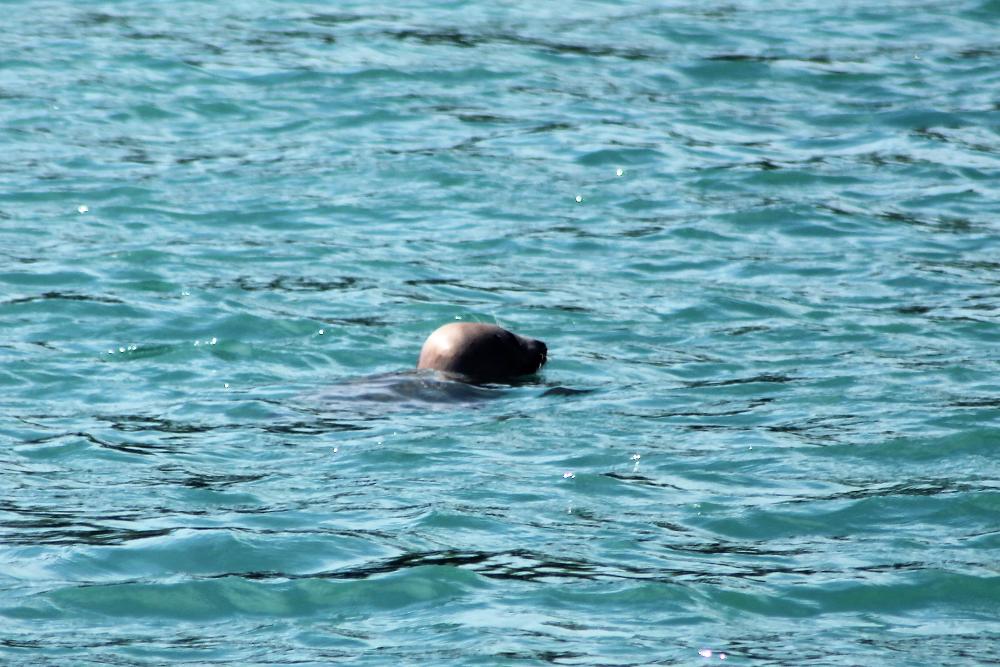 Swimming up close with seals is an unforgettable experience
Boat Rules and Safety
The captain of the boat will give a quick briefing on boat rules and safety, which you will be expected to adhere to for your own and the safety of others.

Swim Guide
Swimmers will be grouped according to ability and will be assigned to a swim guide who will walk you through swim safety briefing and the swim plan.

Swim Plan
Swimmers will be given a swim plan, which will consist of explaining the route to be swum as well as information on what to do in an emergency, hazards to be aware of, tides and what wildlife you may see.

Swim Buddy
You will be assigned a swim buddy, who you will be asked to stick with during the swim for safety reasons.

Entry & Exit
You will also be shown how to safely enter and exit the water.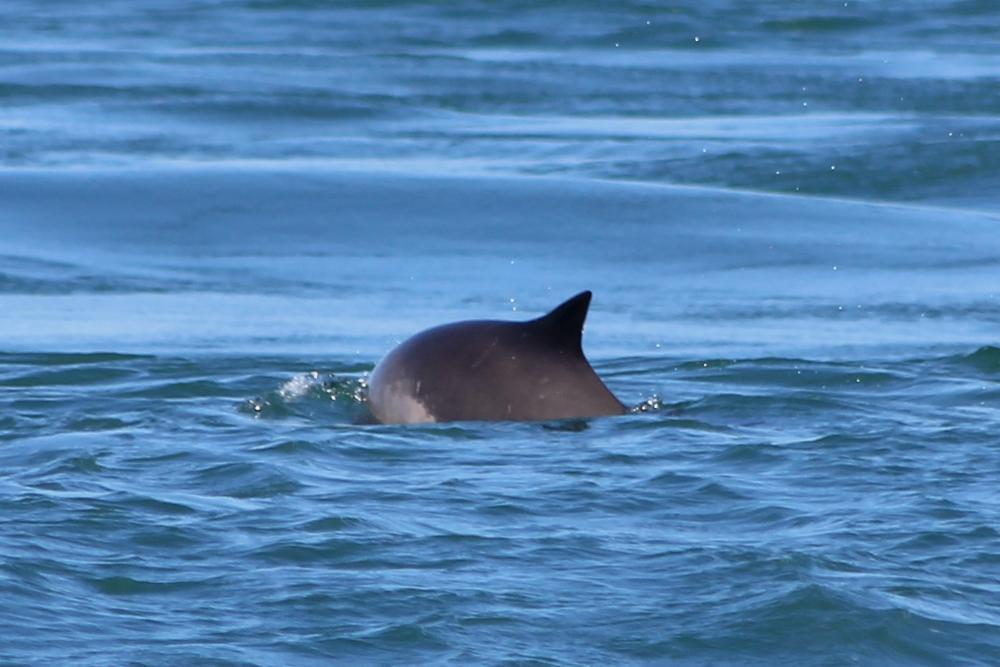 There's lots to see above the water too
You'll see a far greater density and variety of sea life here than you can ever expect to see around more populated and accessible beaches.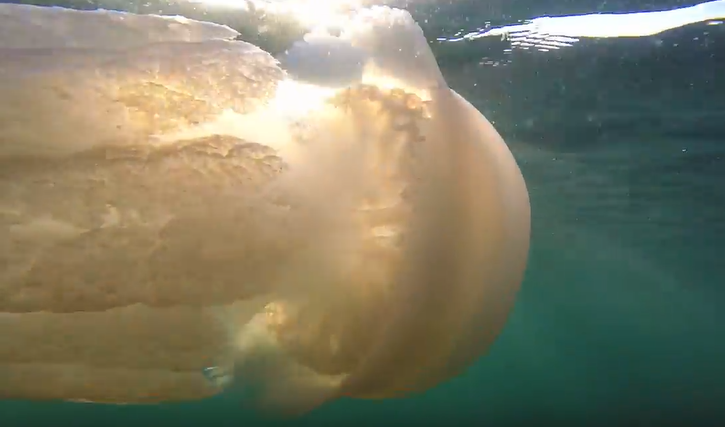 A barrel jellyfish, a common resident of Pembrokeshire
The day long Cost Adventure Swims are more than just a sea swim, they are a complete sealife adventure with loads to see above and below the water. It's not uncommon here to see seals, dolphins from the boat, even whales or certain types of shark.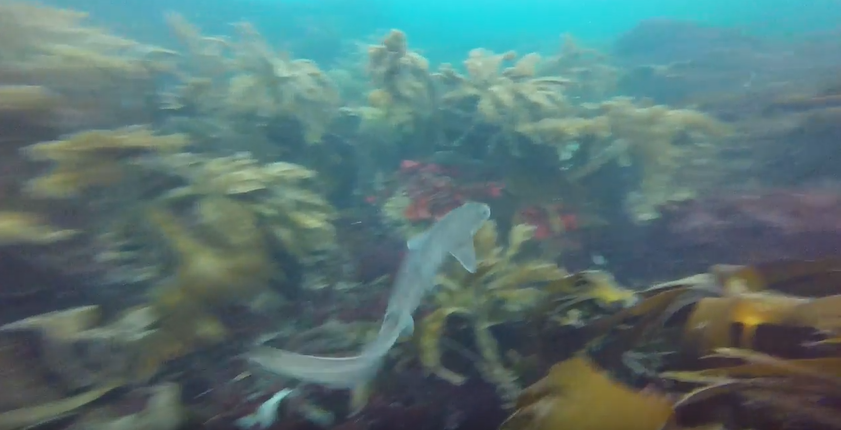 A dogfish on a kelp forest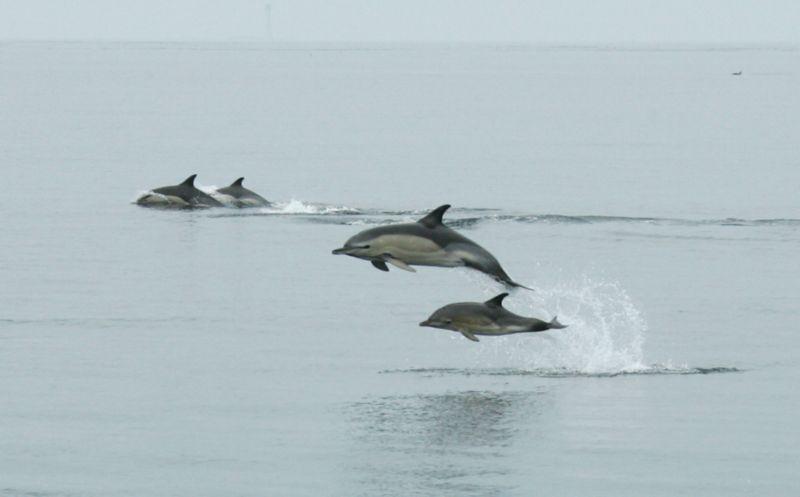 Dolphins are a fairly common sight on our adventure swims
The swims follow the coast line of the either a nearby island or the mainland but can in some cases involve swims between islets or across bays. All you have around you is miles of open ocean! You will also get to see various other marine animals that live on the land or in the coastal zone: puffins, razorbills, crabs, seals, dogfish, jelly fish, to name a few.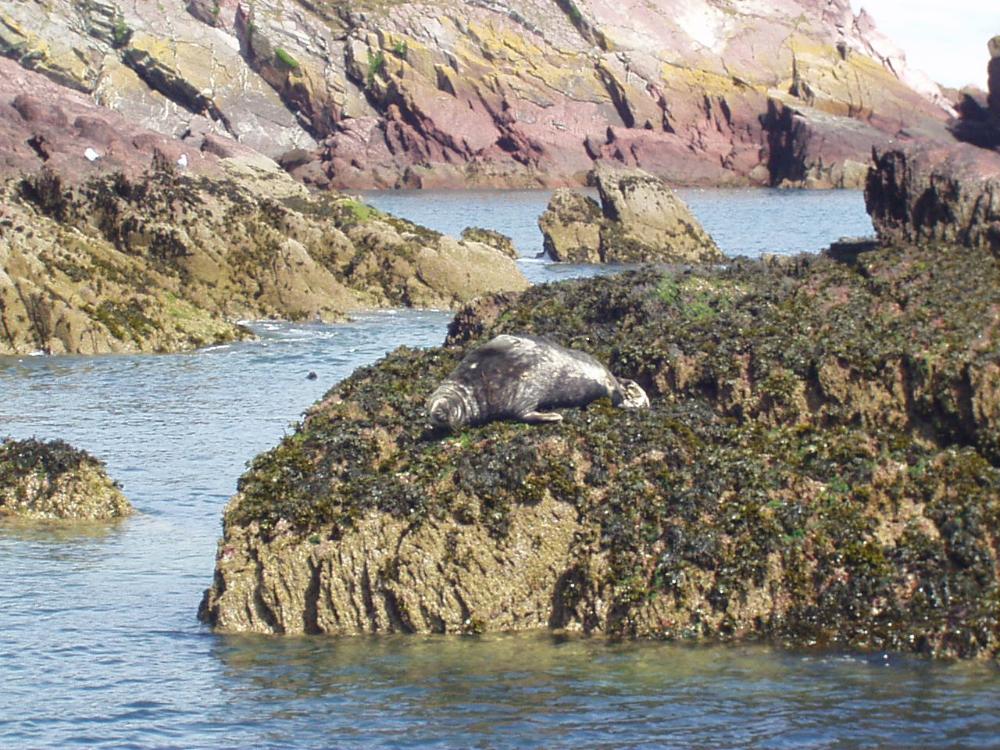 One of the local residents
Our Coastal Adventure Swims are a full day out and allow you to sample a range of swimming environments, from island bays to coastline cliff swims, to deserted beaches.
Over the course of the day we will do multiple swims moving to new locations each time. Swims will follow the same structured format and a planned route each time and your swim guide will review this with you before you get in.
If you are tired or would rather stay in the boat then of course this is OK. If at any time you wish to leave the water, then you can do so, there's plenty to see on the surface too!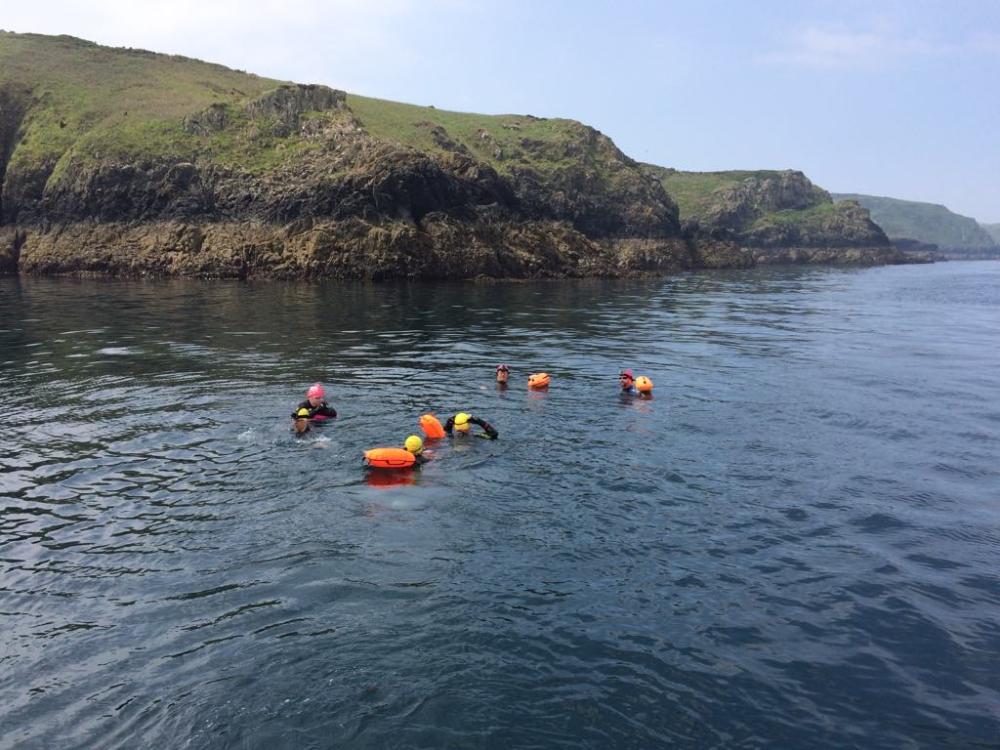 A group of open water swimmers on our sea swimming safari, Pembrokeshire
Book Now to Avoid Disappointment!

Swim Breaks & Refreshments

After our swims we go back to the boat and get warmed up. We recommend bringing coats you can put on over your wetsuit to get warm as quickly as possible. A DryRobe is great for this. Check out this link for more info.

We will have hot drinks and snacks on the boat and chat about all the awesome stuff we just saw! You can bring your own packed lunches of course. It goes without saying, please dispose of rubbish responsibly.

Breaks are normally 45-60 minutes and when everyone is ready we will move the boat to a new location, depending on the weather and sea conditions. Once we're ready, off we go again!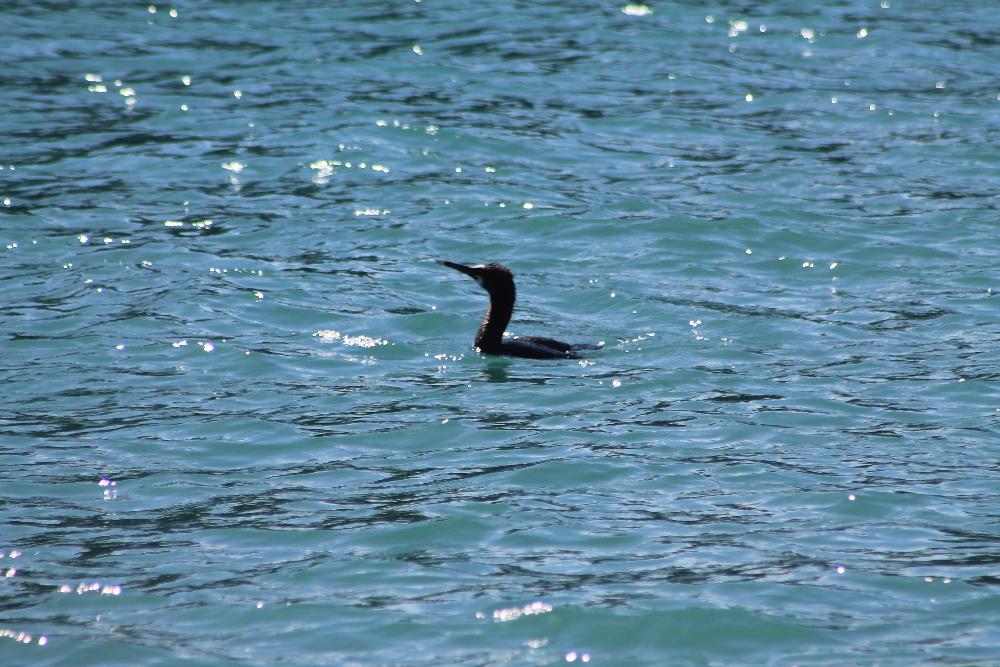 The rest period is a good time to spot other marine animals such as this cormorant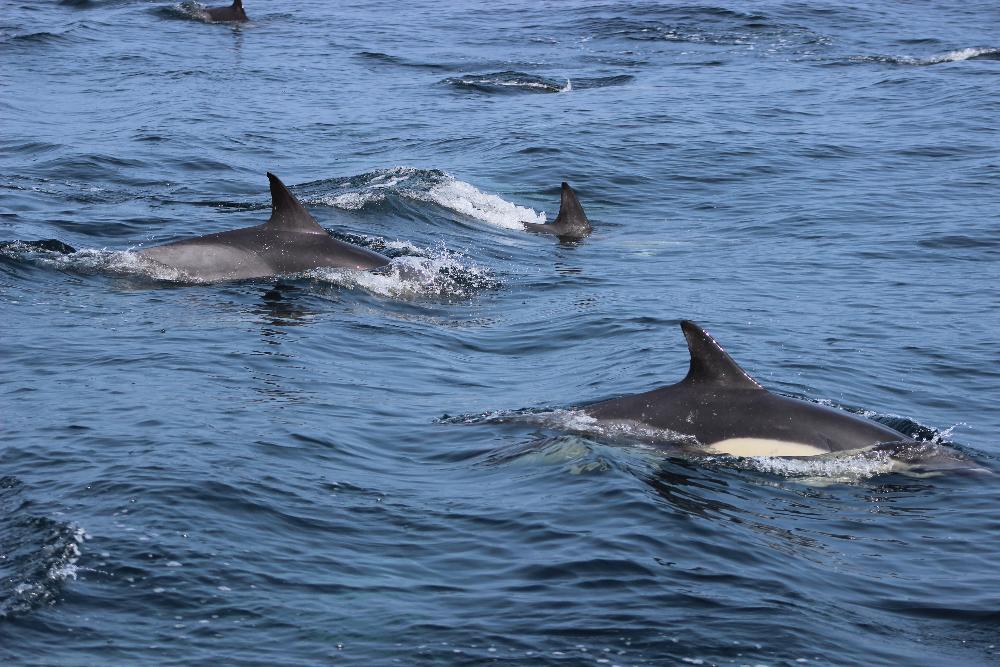 Pods of dolphins can often be seen from the boat when we move from location to location
Recording your Open Water Swimming

Feel free to bring your own underwater camera.
GoPro/action cameras are available to rent.
We will also record the experience on underwater video and offer the raw recording files included in the package fee.

Location:
Meeting location will be Neyland Marina. Post code for this location if you are using a GPS is SA711PY.
A pickup service can be provided if you have booked this with your booking.
Departure Time:
It is critical that we adhere to the right tide times for your own safety and enjoyment.
Prior to the adventure you will be emailed with the departure time. It is your responsibility to check this before the event date.

IMPORTANT:
The boat will not be able to wait for you if you are late. If you miss the boat, we are not able to refund your money.
Westuits and swim tows are required on all swims.

Correct documentation should be signed before starting the adventure swim.

The captain is responsible for your safety at all times while you are the boat.

Drinking alcohol, smoking or use of illegal drugs will not be tolerated.

Your Swim Guide is in charge when you are in the water.

We also request that you inform us in advance of any medication you are taking.
The one thing we have absolutely no control over is the great British weather!

The British weather is notoriously unpredictable, especially in at sea; it can be foggy one minute, brilliant sunshine the next; and the other way round: you may start the day in glorious sunshine and end in a howling gale.

For us, this is just part of the adventure and being well prepared can help minimise the downside of a bad weather turn, but it is important to understand this is not something we can control.

Your safety and comfort is our concern, so if the weather is deemed to be too poor to reach the destinations and have an enjoyable experience doing so, we have contingency sites that we can go to instead.

However, even though these packages run in the summer/autumn months, we recommend preparing for weather extremes!

Camera, with a good zoom lense if you have it, there is lots to see on the coast line.

Binoculars if you have them, you can do plenty of wildlife watching from the boat.
Snacks/packed lunch for the day, there will be plenty of tea/coffee/snacks on board.

Sun cream, s

un glasses, sun hat if needed..

An open mind and sense of adventure!

We have tried to answer some common questions in our FAQ page.

2018 is the 'Year of the Sea', we are offering a special discount of £10 all year to celebrate.

Simply type in the promotion code of 'YEAROFTHESEA' when you make your booking.